"Every Bordeaux lover out there should have 2016s in their cellars"
Yesterday evening (UK time) Jeb Dunnuck published his tasting report, 'Bordeaux 2016: Firing on all cylinders'. In the report, Dunnuck said that "first and foremost, 2016 is a truly great vintage for Bordeaux, and unquestionably in the same category as 2000, 2005, 2009, 2010 and 2015".
Compared to the other 'great' vintages, Dunnuck said that the 2016s "don't have the flamboyant, sexy style of the 2009s (and to a lesser extent the 2015s) yet are more approachable and accessible than the 2005s and 2010s." He added that "quality in 2016 is incredibly consistent across the entire region, and the vintage is packed with values at every price point".
Mouton Rothschild 2016
The 2016 vintage from Mouton Rothschild achieved a perfect 100 points from Jeb Dunnuck, James Suckling, Antonio Galloni, Lisa Perotti-Brown MW, and Neal Martin.
James Molesworth was the only critic to award the wine a lower 98 points. However, he has never awarded a wine 100 points and this was his highest score for a wine from the 2016 vintage.
In his tasting note, Dunnuck said that "along with the Chateau Lafite, the 2016 Chateau Mouton Rothschild is the wine of the vintage from the Medoc and is truly profound, magical, blockbuster wine in every sense" – "Bravo!"
Overall, Dunnuck awarded 11 wines a perfect 100 points. All his 100-point wines are shown in the table below. You can read his full report at JebDunnuck.com, here.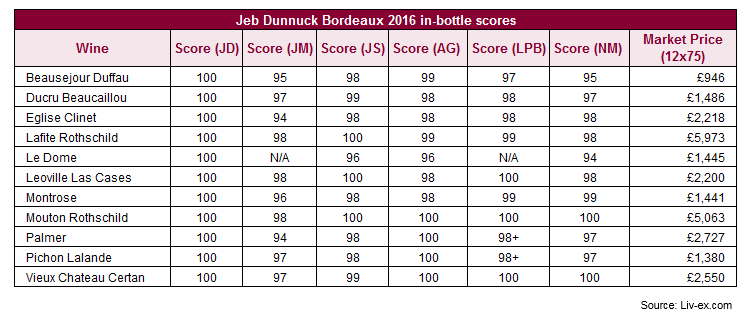 ---
[mc4wp_form id="18204″]